Hey guys, it's been a while - for that I apologise and will explain in a later post.
Today however I wanted to discuss what it's been like (for me) to live Gluten Free. I grew up eating food containing gluten, my favourite food in the world was weetabix (two bix with ice cold milk. Yum), and pasta, I've never had a problem with gluten foods until a few years ago when I got sick - then suddenly no more gluten for me.
I appreciate people willingly choose the gluten free lifestyle, but for me I'd rather pay less for my food and have more quantity and better quality than now, where I pay almost double in some cases, for a lot less - and the taste isn't all that great in comparison to the food with gluten in.
Unfortunately for me my body rejects those foods and not only am I sick - which you'd think would be the worst of it, I ache from head to toe, get complete brain fog and stumble over my words - for days afterwards. Fun times.
I thought I'd do a little post about what it's been like for me living Gluten Free - as I appreciate every coeliac / gluten intolerance person is different - and also it may be an eye opener for those who don't suffer to see how it affects our day to day lives.
When I first realised I couldn't eat gluten, I got rid of everything that I couldn't eat (and by that I mean I gave it to my family, I'm not wasteful), and then came that lovely game of checking food packages before buying / eating - something I am used to with being a vegetarian. Thankfully most packets now bold the foods that are allergens for people so it's easier to spot "Oh it's got Wheat in, not for me then!"
However there have been times when I've caved and ate something containing gluten - and paid the price, sometimes it happens almost immediately and I'm like "NEED TO BE SICK", other times it can be the next day and suddenly I'm throwing up or curled up under my duvet as the light is too bright, and I can't move because of the pain. I haven't caved for a while because it's just not worth it - maybe if I didn't have Fibro/CFS as well I could deal with those days a bit better - but no, not what I want.
***
Going out for meals is almost impossible, as I stated above - I am a vegetarian and when you're out most options for a veggie friendly meal are pasta related, something I can't eat because it's not gluten free pasta.
We went out for Fathers Day and the menu was mostly meat options, the vegetarian options were ONE veggie friendly pasta dish or FISH dishes - I don't know who put that menu together but I would like a word with them, Fish are friends NOT food after-all.
Knowing I couldn't eat any of the main dishes I looked to the side dishes - Aha side of fries and some veg that'll do - so that's what I got. The woman serving us kept saying she felt bad because of how little my food was compared to my family who were having the main dishes.
Having anxiety like I do (which has heightened greatly over the last few months) I just wanted the ground to eat me up, I know she was being nice but then I had to explain "Oh I'm a vegetarian, also allergic to gluten so can't even have your ONE veggie friendly dish - fish isn't veggie friendly btw!" when really I just wanted my fries and veg and to be left alone.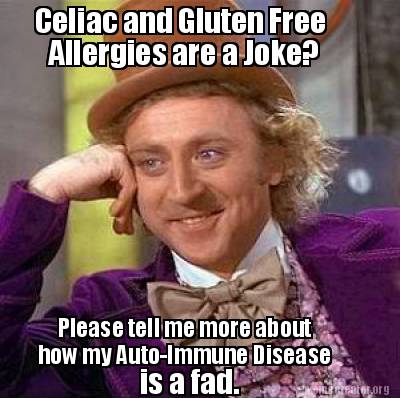 Another reason being Gluten Free is awkward is you HAVE to tell people it.
If you're at a friends and they offer you a biscuit - you can't get away with just saying "Oh no thanks" because "Seriously, go on, have a biccie!!" or eating out, you are that awkward person who is like "Oh no I can't eat there they don't do gluten free options", it's not that I *want* to shout it at the top of my voice so people in New York hear, but if you don't tell people then you're left in awkward situations, trying to avoid biscuits getting thrown your way or just drinking water because you can't eat anything.
The best day of my life (I may be exaggerating here a tiny bit) was when I realised you could get Gluten Free food - Hello Bread, I'm going to toast you & eat you and you will be yummy.
Didn't work out that way, the first lot of bread I had that was gluten free - even toasted was just plain awful. Gluten bread as bread isn't my favourite - it's crumbly as anything, try spreading something on that and you'll end up with bread crumbs & the taste isn't that brilliant either - however toasted, you can get some bread that works for toast.
Finding Gluten Free pasta was my life - I lived off pasta so I was singing all the songs when I found the GF alternative, however I've found you have to watch it whilst it's cooking - it goes from too hard to eat - mush in such a short time, so you need to watch it like a hawk just to make sure you get it when it's just right - when you do, just as good as the wheat version,
However I think my best discovery was Goodfella's Gluten Free pizza - I'd tried Tescos and Asda's own GF pizza which were alright but contained TOO much garlic - which didn't agree with my tum, so finding the Goodfella's pizza and it just being tomato sauce and cheese was a dream. Of course to cut the pizza into pieces I do have to use a pair of scissors - because my knives cry at the base, but taste wise, it's just as good as a normal store bought pizza.
I'm glad I've found gluten free alternatives, it's good when I am going out and about I can just pack my own lunch and therefore not have to worry about not eating all day - I've done that a few times, wouldn't advise it.
However a few things that really bother me, the price - I appreciate it's going to be more expensive but sometimes they really do take the biscuit with their prices, example being - the tiny box of weetabix alternatives (not by the weetabix brand I should point out) is about £4 FOR A TINY BOX! I know you can get it on prescription - but that's if your doctor isn't completely useless (which mine is) and even so, it still shouldn't be so high - I didn't ask my body to reject the normal food, don't punish my bank account.
Also the amount of fats and sugar in there - I suddenly gained a lot of weight eating a mostly plant based diet, the only thing that changed for me what gluten free bread so I looked at it and ooh it was high in everything. Which makes me wonder why people choose the GF lifestyle to lose weight - I gained a lot just from bread alone, I wouldn't suggest eating GF if you want to lose weight.
Again this is not a lifestyle I chose for myself so don't appreciate the extra rubbish added in my food - sure I could cut them out (and I have, I don't eat bread unless I'm going out somewhere, pasta a few times a month, same with a pizza - the rest is plant based food I cook myself so I know what's going in there), however it does annoy me how much more rubbish gets thrown into Gluten Free food - if you're not someone who checks the labels to see exactly how much fat, sugar, salt etc is in the food (like I'm not, I check enough with GF and Veggie friendly) then its a bit of a shock when you realise.
Will it stop me eating Gluten Free alternatives - no, I like having the options. I do however think companies should look into improving the ingredients a bit - I realise they're doing it for taste but it doesn't need to be THAT bad. Also if they could look at the prices and make them a bit more purse friendly that would be great.
***
I'm not sure what you'll get from this post, part of me is talking about the greatness of finding GF alternatives, other parts are ranting - I am mad my body decided to dislike gluten after all those years of eating it, and because of that I have to suffer.
However, that's all I can do is rant - I can't change my body back, I'm stuck with this now for life - some parts annoy me, others don't.
To end on a lighter note - it's good when you get gluten free cakes or biscuits because most people don't like them, meaning more for you, of course that means more of the rubbish going inside your body but hey, sometimes you just need a chocolate chip cookie.
Have any of you got Coeliac or another food intolerance?
How do you cope?
xx